Word Sea is one of the coolest releases in the word games category developed by Zentertain, a company that develop word games and other interesting apps. The game is free to download in any platform. Get ready to sail and dive into the deep blue waters of words and oceanscapes while listening to a relaxing music. After finishing each level you can look at the build-in dictionary to learn more about the words you solved and improve your vocabulary. This website is here to help you when you need a helping hand. Make sure you save your progress so you won't need to start over again.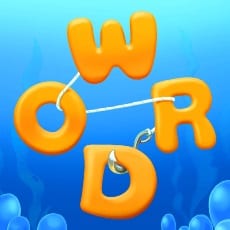 Find here all Word Sea Level 49 Answers.
Word Sea Level 49-1
BEHIND, HIDE, BEND, BIND, DINE, HID, DIN, HEN, HIND
and extra or bonus words are:
DIE, BIN, NIB, HIE, BEN, DIB, NEB
Word Sea Level 49-2
SHOWED, WHOSE, DOES, SHOW, HOSE, OWED, OWES, WOES
and extra or bonus words are:
SOWED, HOSED, SHOED, DOWSE, DHOWS, SHED, WEDS, HEWS, SHEW, HOED, EDHS, HOES
Word Sea Level 49-3
FATHER, AFTER, HEART, EARTH, RATE, FARE, TEAR, RAFT, FEAT, HARE, FETA, FRET, HEFT, FRAT, FART
and extra or bonus words are:
HATER
Write us a comment below if a answers is incorrect or missing so we can work on that and fix it ASAP.
For the full list of level answers go to Word Sea Answers.